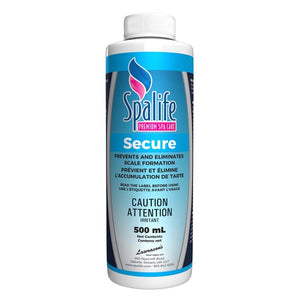 Use Spa Life Secure after every water change to protect against stain & scale!
Prevents scale and staining.
Protects the heater element.
How Spa Life Secure Works:

The formation of scale in swimming pools is due to the precipitation of calcium or magnesium in the water as carbonates. There are several factors that influence this including: dissolved carbon dioxide, pH, total alkalinity, amount of calcium or magnesium in the water, and/or total dissolved solids.
Great Products
We have liked everything we have ordered and appreciate the quick shipping/delivery! They have become our go-to hot tub suppliers.