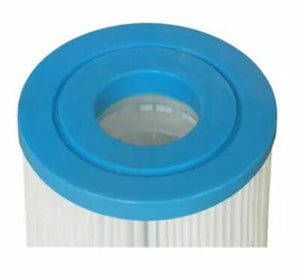 Hot Tub Spa Filters. 

Part no: C-5345
Diameter: 5-5/16"
Length: 10-1/8"
Top: 2-1/8" Open
Bottom: 2-1/8" Open
45 sq.ft.
This  filter is a compatible replacement for Pleatco PLBS50, Master Deluxe M50451 and Filbur FC-2970.
Use a  brand hot tub filter to keep your hot tub water sparkling clean and beautiful. Made with Reemay filter media, the brand hot tub filters are durable and effective at capturing the smallest of debris making it easier to take care of your hot tub water.  hot tub replacement filters are available in a variety of sizes and built to OEM specifications, you're sure to get a reliable hot tub filter that fits your hot tub perfectly. Use this replacement filter to replace your worn or damaged hot tub filter or as a back up to maximize the time between filter changes. Easy to install, the  replacement filter delivers OEM quality performance at a great price.
Manufacturers who use the C-5345:
Dynasty Spas, Garden Leisure, Leisure Bay Spas, Maax Spas, Pentair Pool Products, Rainbow Plastics, Rec Warehouse, Rocky Mountain Spas and more.
Also known by these other OEM part numbers: