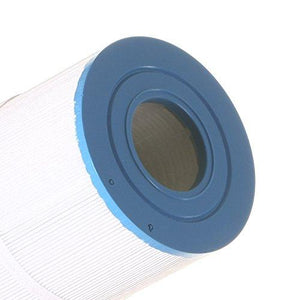 Part no: C-4975
Diameter: 4-15/16"
Length: 20-1/8"
Top: 2-1/8" Open
Bottom: 2-1/8" Open
75 sq.ft.
Brand: Unicel Premium, pro aqua, pletaco

This c-4975 hot tub filter replaces the Pleatco PRB75 and Filbur FC-2395. 
Use a  hot tub filter to keep your hot tub water sparkling clean and beautiful. Hot Tub filters are effective at capturing the smallest of debris making it easier to take care of your hot tub water.  Use this replacement filter to replace your worn or damaged hot tub filter or as a back up to maximize the time between filter changes. Easy to install.
Manufacturers who use the C-4975:
Customer Molded Products, Dakota Spas, Emerald Spas, Hydropool Industries, Nahani Spas by Maax, Pentair Pool Products, Rainbow Plastics and m
Excellent service
This is a great company… they always come through for me…. My filter cartridge was perfect
Thank you
Valentine