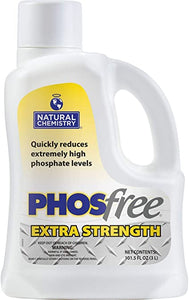 Detailed Product Description
High Powered Phosphate Removal.
"PHOSfree" is available in extra strength! It is the only patented product that removes phosphates on the filter. This extra strength formula quickly reduces extreme high phosphate levels. PHOSfree Commercial Strength provides professional service companies an excellent tool for reducing the time spent trying to lower very high phosphate levels reliably. It will also work well on large commercial and institutional swimming pools.
Works on both the filter and in the pool for maximum phosphate removal
Easily maintains low levels of phosphates in the largest volumes of water
Strongest formulation available on the market.
Directions for use: 
1. Clean or backwash filter
2. Apply appropriate dose. See chart below
3. Shake bottle well and with filter pump running add dose directly to the skimmer
4. Clouding may occur. After 48 hours, vacuum to filter