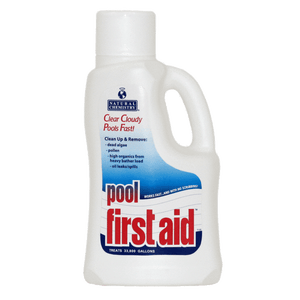 Pool First Aid, 2L : The problem solver!

Pool First Aid combines powerful concentrated natural enzymes with a fast acting polymer clarifier for quick and easy clean-up of:
Dead algae
Pollen
Oil leaks & hydraulic spills
Antifreeze residue
Vandalism
High organic waste loads
Pool First Aid will quickly free clogged filters of oils and organic build-up. No other product will remove dead algae more quickly and efficiently...in most cases no back washing is required.

Clear, Perfect Water. 

Directions:
Add two ounces per/thousand gallons (60ml per 3750L), one capful treats 2000 gallons (7500L)
Broadcast Pool First Aid over the surface of the pool. Can be used every two days until the pool is crystal clear. Apply directly to water line to quickly remove any existing water line build-up
Ensure chlorine levels are below 10ppm.  For extra optimization shock next day with either 400 g of OMNI Shimmer or OMNI Breakout.