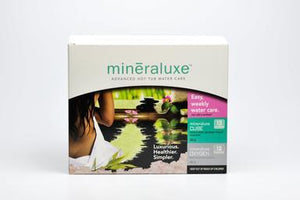 Are you tired of complicated potions, soaking in chemical soup, feeling like you need a degree in chemistry just to own a hot tub? We've got something better! And, it's going to make you fall in love with your hot tub again!
Three Months of Worry Free Hot Tub Care

Contains: 12 Packages of Mineraluxe Oxygen: help to gas away wastes collected by bromine and keep your spa crystal clear

Contains: 13 Mineraluxe Cubes: enhanced water softening botanicals, skin silkification, enzymes, and scale preventers.  One Cube weekly replaces many of the traditional balancers that adjust pH, alkalinity and calcium hardness, whilst keeping your spa extraordinarily clean and free of both staining and scaling

Whichever type of sanitizer you use - bromine, chlorine, salt - works perfectly with this duo of once a week easy spa and hot tub care
Easy and effective
We have an older spa and we like the Mineraluxe system because it's easy to use (all pre-measured) and just takes a minute or so every week.