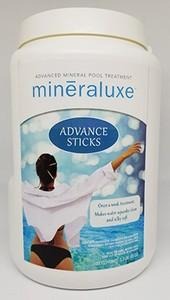 Make your water look amazing!
-A more natural way to maintain pool water
-Easy once a week application
-12 sticks per bucket
-102g sticks
Mineraluxe Advance creates swimming pool water that is crystal clear, squeaky clean and with a silky softness that you thought was only available in your hot tub. And that's not to mention the biofilm-fighting benefits of our Mineraluxe technology, that substantially lowers sanitizer consumption, bringing a whole new level of affordability to the system. Biofilm, as we know, is a hidden torment for pool owners; allowing organisms a place of safe refuge until regular pool maintenance breaks down. Not Any More! And, when used with the Pure Wow pool care system, the weekly addition of Mineraluxe Advance takes pool ownership to the next level, making maintenance simple and easy and delivering unmatched water quality.