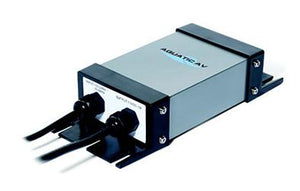 This Aquatic AV power supply specially made for use in spas connects to any control system with a 230V AMP 4-pin output (Balboa or Waterway for example), or directly to a 230V household outlet.
It can be found on spas manufactured by Sunrise Spas, Wellis, Aquavia and Clearwater Spas, among others.
Its 13V DC output allows a amplifier or an active subwoofer to be powered via a wire harness. Several speakers and/or a passive subwoofer can then be connected to the wire harness.
Technical data
Input Voltage : 240V AC (power input auto sensing/switching)
Output Voltage : 13V DC regulated
Input Current : 1.7 A
Output Current : 5 A
Input Frequency : 50/60 Hz
Input plug : 4-pin AMP
Output Plug : 2 spade red connectors (female + male)
Waterproof : IPx5
Certifications : UL1563 class2, UL1310, CSA, CE
Dimensions
Box : 235 x 110 x 110 x 52 mm
AMP cable length : 150 cm
2 red connectors cable length : 140 cm