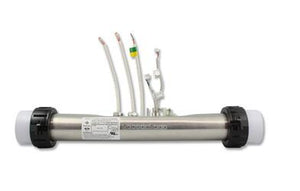 In.XE/Y-Series 4.0kW, 240V Heater Housing IN.FLO
Cheaper than some national and local dealers
With the "free shipping "and lower pricing, it beat our local dealers charges hands down. Wasn't in a rush, but got it in days to northern Alberta, that's to my door step. Was able to track it using their system. It was Easy to install. Could have gotten cheaper in the states, but our Alberta belief is that we support Canadian companies. If I need parts in the future, I will look here first.
Thanks Hot Tub Supplies.
Hi Robert,
Thank you so much for the lovely review! That is so awesome to hear, you guys have the right attitude! Good on you for supporting Canadian, I always do the same too. Here is a 10% off code for you to say cheers: 10%OFFCODEFORYOU
Thank you
Ben
Great price
Had a great deal on that part. I saved more than 100$.
Hi Francois,
Thank you for your nice review! Here is a 10% off code for you to use next time you shop with us! 10%OFFCODEFORYOU. Thank you for shopping with us and wishing you a great weekend ahead.
Ben
Perfect
Brand new, fast shipping and easy to install with all harware, Thank you 😊