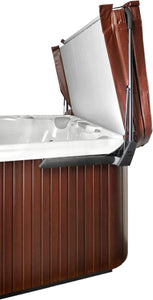 The CoverMate III Maxxus is virtually identical to the standard CoverMate III however designed for larger hot tubs up to 110" Long and with a corner radius of 12" of larger such as the Sundance Maxxus or Aspen series hot tubs.  The CoverMate 3 cover lift is recognized as the best cabinet mounted cover lift on the market.  It offers some significant advantages of its competitors such as powder coated aluminum full width centre bar that withstands all weather conditions for years of trouble free use.  The dual hydraulic gas shocks (one on either end) makes opening and closing the cover almost effortless

The CoverMate III required only 6" of clearance behind the hot tub.  This is a huge advantage where space is limited such as installation inside gazebos etc.  The hot tub cover is stored in an upright position which also provides an added degree of privacy.
This cover lift mounts directly to the hot tub cabinet.  The CoverMate III will not work on Round, Octagon or Hexagon hot tubs.
PLUS, every CoverMate 3 comes with the TowelMate towel hooks.  No longer need to drape your towel over a chair!
Features Include:
Maximum hot tub cover width is 96"
Maximum hot tub length is 110"
Hot Tub corner radius: 12" or larger
Brackets designed for Sundance Maxxus Hot tubs
Requires just 6" of clearance behind the hot tub
4"-5" side clearance
Full width frame powder coated aluminum tubing
Dual Hydraulic shocks for effortless operation
Durable composite brackets with beauty covers that hide mounting hardware for a clean, elegant look
Ergonomically designed for ease of use
TowelMate (Towel hooks) are included
This lifter will not work on Round, Octagon or Hexagon Hot tubs.