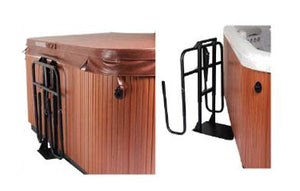 Each order of 1 (one) is for 1 (one) Kit 
What's in the box:
2 poles
2 u-bars
1 piston 
This is truly a conversion kit... so you need to have a Cover Caddy in stock to be able to convert it. Also, keep in mind that most swim spas require two cover lifters, so you'd need 2 - Cover Caddy lifters and 2 swim spa conversion kits.

No Lifter is included with this item: Please see: Cover Valet - Cover Caddy Premium Hot Tub Cover Lifter
Here is how it works:

Swim spas tend to be too high for the Cover Caddy to reach the top of the acrylic using the stock parts that come with a standard Cover Caddy. So the swim spa conversion kit contains an extra long set of legs, an extra long set of arms to stow the cover, and a stronger shock to accommodate the extra weight/leverage of such a large tub. So after a conversion, you will be left with a few extra regular Cover Caddy parts (2 legs, 2 arms, and a shock) that have been replaced by their swim spa counterparts.

Swim Spa Conversion Kit available for spas 41 inches to 60 inches tall


Intended for use with the following item: CV90203 - Cover Valet - Cover Caddy Premium Hot Tub Cover Lifter
Below is details on the Cover Caddy you need to also order:
The Cover Caddy gas spring assisted cover lift defines versatility and effortless spa cover removal. It's unique design allows for installation on an array of spa shapes and sizes including round, octagonal, and spas with large radius or cut corners. The Caddy's new under-mount base plate provides for a complete installation within minutes. The addition of a powerful gas spring makes lifting and lowering your spa cover easier than you ever imagined.