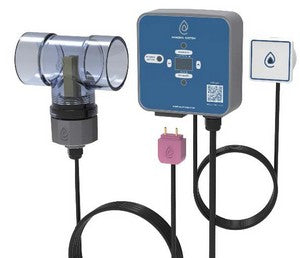 ClearBlue continuously releases
microscopic ions into the water that assist
in controlling bacteria and algae
An ion is a molecule that has a positive
or negative electrical charge. Because
of this charge, ions are attracted to
algae and destroy it on contact
Ions are picked up by the water as it
passes over an electrode that is installed
into the plumbing of your pool or spa
ClearBlue extracts a proprietary blend
of ions to cleanse and purify the
water, while leaving your skin smooth
and soft after each swim or soak
--
Ionizer - for spas and pools up to 25,000gal. Package includes
1 system controller, electrodes, PVC tee and Cu test kit.
ClearBlue Ionizer System - for spas 750 L to 9,500 L. Includes 120/240V amp plug, 2" clear tee, 1.5" reducers and topside control. ClearBlue releases microscopic mineral ions into your pool or hot tub which control bacteria and algae. This allows you to reduce the chlorine, algaecide and other chemicals by up to 90%. The ClearBlue Ionizer costs less than a salt chlorinator and ClearBlue pools are less effort to maintain than traditional chlorine or salt pools.