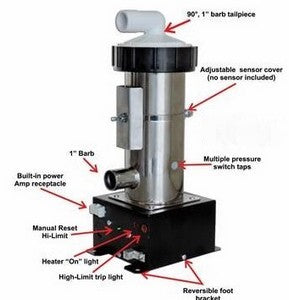 27-V310-5T-K
Universal Vertical Heater Kit, 4.0KW (C2500-3600ET-G)
4.0KW, 230V Universal Replacement Low Flow heater 27-V310-5T-K - Finally a universal replacement heater for the discontinued low flow heaters.
Vertical Low Flow Canister - Universal Replacement Heater
12-3/8" tall with 5-3/4" x 4-1/2" base. 1" barb ports but includes 3/4" barb adapters. Built in manual reset high limit and 3 pressure taps.
This model is a 4kW 230V vertical heater 27-V310-5T-K.