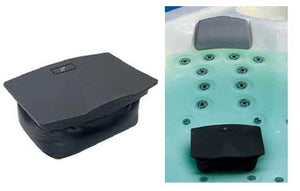 Life Spa Deluxe Seat Booster Cushion
Keeps you comfortable, allowing you to sit higher. Ergonomic seat for maximum comfort. Suction cups to maintain the desired position.
Deluxe Spa Seat Cushion Dimensions: 4.5" (L) x 5.5" (H) x 10.5" (W)
Poor design
Tried this product, and although filled to capacity..still floats. Tough to get suction cups to stick. I am 115lbs and when the jets are on the seat moves all over…..wobbly. Just can't get it to stay in place. No returns at Artic Spa Ottawa, so it was a gamble. $65 on poor product.