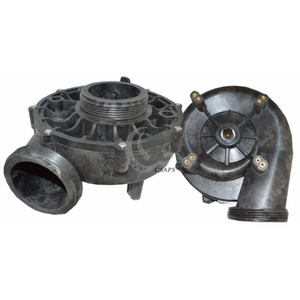 Genuine Aqua-Flo, Flo-Master by Gecko Wet-end.
Complete wet-end for an Aqua-Flo Flo-Master XP3 hot tub pump.
2.5" intake and discharge (measures 3.5" outside to outside thread)
complete wet-end with seal and 2.5hp impeller (2.0 OP.HP)
Only fits 56 frame motors
Genuine Aqua-Flo product for Aqua-Flo hot tub pumps, always measure the intake and discharge size to order a new wet-end with the correct replacement size.
Consider replacing the complete wet-end instead of just the pump seal when your pump seal is worn out. It's easier and the Aqua-Flo wet-end comes with a new impeller and pump seal already installed.
Aqua-Flo pumps is owned by Gecko Alliance, one of North Americas largest manufacturers and suppliers of parts to the pool and hot tub industry.
When shopping for hot tub parts and pumps always insist on genuine brand parts to ensure long lasting trouble free performance.