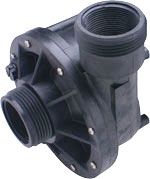 Waterway Spa Pump Wet End Side Discharge
For pumps rated 13.5-17A 115V / 7-8A 230Volts 1-1/2" SD/CS,
Fits Waterway Spa pumps with 5.6" diameter motors, for 1-1/2" PVC pipe size.
Threads measure 2-7/16" outside diameter, 1-1/2" MBT industry standard thread.
Also features internal pipe threads on intake & discharge port, these are 1-1/2" NPT threads. 3100800 3107830
Replaces Aqua-Flo Flo-Master HP, FMHP pumps, Premier pumps, Martec, and and others. Waterway Pump Parts and genuine OEM replacement parts by Waterway Plastics.
Waterway pumps are Made in the U.S.A. Aqua-Flo Flo-Master HP, Aqua-Flo FMHP, Pump head for p/n 3420610-0Z, 34206100Z