Buying a Hot Tub Online & Sight Unseen. The new norm!
Are you looking for a new Hot Tub? Online is a great way to choose from multiple brands and models, Hot Tubs are often a lot cheaper too and whilst online you can see the features and specs without getting sold by a salesman.
Buying a Hot Tub, Vehicles, Homes or a big purchase like these 10 years ago without sitting in it, testing and touching seemed very taboo. Now with Online Sales and Retail taking over this industry and every other one in North America & around the world, we are seeing companies turn to online sales of Hot Tubs and this becoming more and more popular! You can even get a $100,000 car delivered to your home now and buy homes around the world without viewing!
In this article, we will discuss buying a Hot Tub online, the questions that you need to ask, how to make sure that you are getting the right tub for you and yours & much more! No matter how easy it is to purchase now a days, we understand your hesitations and at Hot Tub Supplies, we will always go above and beyond to ensure we are helping you choose the right tub for you.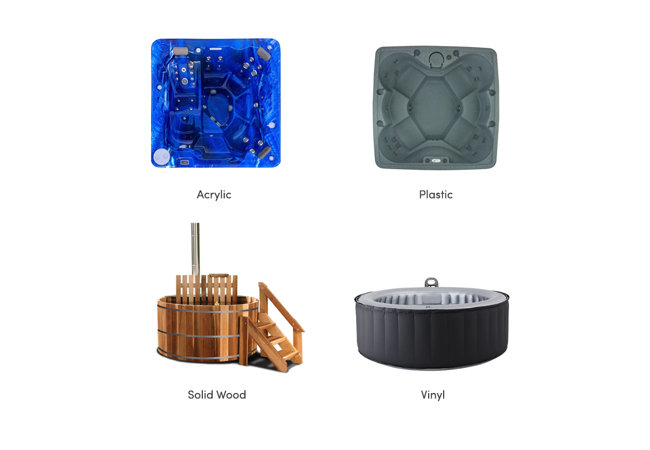 Before you buy!
There are several important factors to consider when purchasing a Hot Tub. Here are a few of them:
What type of Hot Tub should I buy? The first decision is whether you would like a Inflatable Hot Tub, In the Ground or permanent Hot Tub, Wood Frame Hot Tub or Swim Spa (combines a pool & a hot tub with jets you can swim against). This might also be a time to discuss your budget which will help you to choose 
How much space do you have as well as access? You will need to decide on the size of the tub based on the space that you have. You will need to keep in mind that you will need a pad of some kind for a regular Hot Tub, you will also need electrical access and hose access at a minimum. One other factor is to consider access points for maintenance etc.
What features would you like in your Hot Tub? Some people buy a hot tub for themselves & some people buy them for entertainment. The first decision here is how many seats would you like? Most hot tubs are 4-6 seats. Apart from this, you may specifically want a lounger, perhaps drink holders are a necessity for you, or strong massage jets for deep tissue massage. 
How much should I pay? Hot Tubs vary in price from $5000 all the way up to around $20,000. For a average 4-6 person Hot Tub from a decent brand I would say that you are looking at spending between $9,000 and $13,000. 
Delivery - How you will receive the Hot Tub is important to consider. Some companies will install and some will simply drop at the curb. Dropping at the curb is a popular way of delivery and from here it is easy to move with a dolly or hiring a crane to bring it to your pad. 
What are some important features to note? There are many factors that are important when purchasing a tub. Things such as:
- Strength of Pumps
- Amount of Jets
- Warranty Information
- Support after purchase
- Ease of maintenance
Before you purchase, speak to the retailer about the above factors. This is a big decision and you will want to makre sure you tick all of the boxes before you go ahead. 
Owning a Hot Tub at home is an amazing experience. It is something that you look forward to after a long day of work and can provide a lifetime of rejuvenation & enjoyment for you and yours. Did you know that 58% of recent Hot Tub buyers said that they just wish they had bought a tub earlier?
If you are interested in purchasing a Hot Tub for your home, we would love to have a chat. Feel welcome to browse our line of Hot Tubs, Inflatables & Swim Spas Hot Tubs & Swimspas – Hot Tub Supplies Canada
If you have any questions or would like to chat, we are here 5 days a week to help you choose the right model for you. We stand behind our range of Hot Tubs and can always ensure a great experience when purchasing with us!
 Thanks for reading,
Hot Tub Supplies Canada