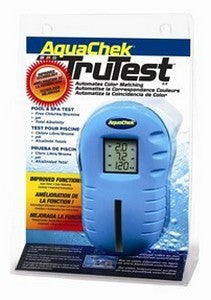 Get your test strip results measured quickly and with ultimate accuracy! 
Digital True test Reader, chlorine/bromine, pH, total alkalinity
You also need to buy test strips for this reader. The part #512082
AquaChek Tru Test Test Strips
Aquacheck
Works great - I'm color blind so interpreting ph strips has always been a problem until now.
Hi Brian, Thank you for the positive feedback, we are glad to hear that the strips have made things easier for you! That is awesome. Here is a code for you to use next time you shop with us BUYO-WPOH-KHQ0
Thanks
Ben
HTS